By YVONNE YOONG
Building blocks to facilitate coral growth: Part of the team of architects from PAM joined divers from RCM and YTL Corp to take the plunge for coral reef rehabilitation in an initiative lauded by celebrity Tan Sri Michelle Yeoh.
A team of experienced architect divers from the Malaysian Institute of Architects (PAM) gamely took a plunge into the pristine waters of Mentagor Island, off Pangkor Island, just a boat ride away from Pangkor Laut Resort, Perak in an effort to rehabilitate coral reef growth. Joining in this initiative to place 20 green cement blocks at the bottom of the seabed was the team from Reef Check Malaysia (RCM) and representatives from YTL Corporation who braved sea urchins, sea sickness and the cold waters to accomplish the task.
The underwater reef rehabilitative effort was subsequently followed by the coral transplantation efforts to the specially fabricated sturdy blocks. The specially designed cement blocks weighing approximately 120kg each were sponsored by YTL Cement.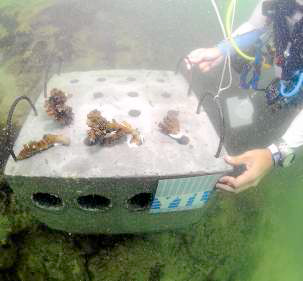 Attaching the coral nubbins to the green cement block.
RCM general manager Julian Hyde hoped that the placement of the cement blocks followed by the transplanting and glueing of the coral fragments (or nubbins) onto them will result in new coral reef growth. "We expect the nubbins to be stable within six months. RCM will continue to monitor the nubbins monthly to ensure the success of this project.
Provided that all external environmental conditions remain fair, the nubbins should be able to grow independently, thereby creating and supporting a completely new ecosystem at the site," said the trained eco diver. RCM is a non-profit organisation (NGO) which conducts annual reef check surveys to assess the health of reefs around the islands of Malaysia.
YTL Corporation director of Environmental Investments Ralph Dixon said that specially designed green cement blocks were used as producing ordinary portland cement (OPC) results in a lot of carbon dioxide. "RCM, the experts on reef rehabilitation, gives reports on the growth progress of coral reefs which can measure the success of this CSR programme," he said. He likened the process to gardening whereby one "takes the seedlings and nurtures them and they start to grow".
Celebrity Tan Sri Michelle Yeoh Choo-Keng, a native of Perak, lauded their efforts. "Since nearly 95% of Malaysia's coral reefs are under threat, it is timely that YTL Corp Bhd, RCM and PAM are coming together to extend their reef rehabilitation programme to this project. "Please join me in supporting their efforts by spreading awareness," she said.
Source: The Star Property
Details

Last Updated: 13 February 2014